Fever
From ZineWiki
Jump to navigation
Jump to search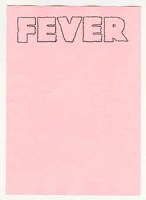 Fever (also known as Fever Zine) is a quarterly zine based in London, United Kingdom.
Fever was created by British music and arts journalist Alex Zamora who also publishes and edits the zine. He was previously responsible for publishing the limited-run zine Barometer.
Printed in black and white on A4 pages, the zine itself is folded into A5 and stapled. Its front and back covers are printed on pink paper while the inside pages are white. It uses distinctive and original typography on its cover and on its article titles. Issue 1 had 24 pages while Issue 2 has 28 pages.
Fever's apparent main focus is Music. It also covers Art, Fashion, DIY culture and other zines. It has a slight bias towards covering creativity from the city of Liverpool in the United Kingdom. It contains writing, photography and illustration by a variety of contributors. Issue two features interviews with Pop Levi, Ladytron and music video director Nima Nourizadeh.
Its contributors are wholly drawn from Myspace and range from art students to professionals from the U.K. and the rest of the world.
The cover of Issue 2 was drawn by acclaimed British illustrator Andy Council and is based on the Spinosaurus from the movie Jurassic Park 3. According to his website, Council has nicknamed it 'Feversaurus'
Issues
Issue 1 was first published in early 2007 and created using Microsoft Word.
On Saturday April 21st 2007, Fever took part in the annual London Zine Symposium at The Horse Hospital in Bloomsbury, London.
According to their blog, Issue 2 of Fever debuted at the independent publishing fair Publish And Be Damned in London on July 29th, 2007.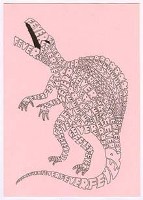 Trivia
Fever is sometimes referred to as 'Fever Zine' on Myspace.
Issue 1's cover was purposefully left blank, with only the Fever logo present. According to Fever's blog this was done to establish the zine's logo and identity with readers.
Issue 2 was featured in an article by journalist Helen Sumpter in Time Out London on the 23rd of July. It was picked as one of the zines to look out for at Publish And Be Damned 2007.
External Links