F.O.D.! Maggotzine
From ZineWiki
Jump to navigation
Jump to search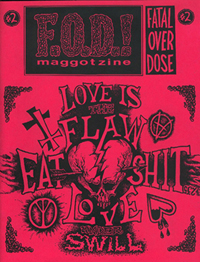 F.O.D.! Maggotzine was a zine released by Urania 235 from Toronto, Ontario, Canada.
The first issue of this zine was released in 1989, and more issues followed in the 1990s. It was a photocopied, cut and paste publication and each issue had a different coloured cover. It was a large size zine (8 1/2 by 11 inch) which was used to feature full page illustrations and comics, along with articles, stories, interviews and many clippings of the strangest and most bizarre events reported on in newspapers and magazines. The editor is a tattoo artist, so the zine also includes many photos of his artistry. There are also reviews of recordings, magazines, books, comics and zines.
The first issue was co-produced with Amy Grant and Dead. In issue two, the editor explains how they have both quit over the content in issue one, especially an illustration by Urania 235. Controversy also arose with readers over material on Satanism. The editor promises more gratuitous violence, unnatural sex acts, and blasphemy to come.
Issue two features a red cover with art work by the editor. Inside, along with the features mentioned above, are the articles "You Think You Have A Shitty Job?" by D. Picciottoli; an article on phone sex work by Saint D. von Provokita; "Richard Kern Gets Lucky", fiction by Lynna Landstreet; interviews with the bands Nuclear Death and Sacrifice; and feature article "A Level Above Nature" by Abominable TV Snowman, about Wilhelm Reich, Aleister Crowley and UFO Conspiracies; also included are the comics "Coffee Drinking Man" by Geoff Gilmore and Danny Hellman; "The Radical Geographic" by Rian Piccolo; "If I Had A Gun" by Joe Deagnon; and artwork and illustrations by Abominable T.V.Snowman, Ehell, Chris Gehman, G.B. Jones and Richard Konik. For this issue F.O.D. stood for Fatal Over Dose.
For issue three, it stood for Fear Of Driving. The big feature of this issue was an article on The Process Church, specifically in Toronto, and the various conspiracy theories surrounding it involving Scientology, Charles Manson, Son of Sam, George Clinton and John Travolta; along with the regular features, other articles included a history of artist Von Dutch; wrestling in the 1950s; "The Mystique of the Credit Card" by Saturnino Mori; "7-11 boy", fiction by Lynna Landstreet; "Two-Bit Philanthropist" by T. M. Caldwell; an article on the Satanist magazine Brimstone; a comic by Lapp; and artwork by G.B. Jones, Orlando, and Tol-X.