Emergency
From ZineWiki
Jump to navigation
Jump to search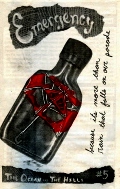 Emergency was a perzine and political zine written in New Orleans and New York City by Ammi Emergency.
Each issue had a different theme. The first issue came out in 1999 and contained fiction, non fiction and poetry. The third issue is written when she lived in New Orleans and was released in summer 2000. The fourth issue was the monsters issue. She tackles issues which include witnessing the WTC attacks and dealing with the loss of a friend to suicide. In the fifth issue of which the subtitle was the ocean and the hills- there are several stories about living in New York while the war on Iraq begins as well as reflecting on her suburban past as well as living in New Orleans. She talks about gender, sexuality, mortality and about war. She tells stories about doing bicycle delivery jobs in 2004.
In November of 2002, Ammi Emergency joined fellow New Orleans zinesters Ethan Clark, John Gerken, Willie Jones and Natalia to take part in the Y'erd Me? Zine Tour reading from Emergency. Selections from Emergency appear in the compilation zine, Y'erd Me?, that documented the zine tour.
External links