Dishwasher Pete
From ZineWiki
Jump to navigation
Jump to search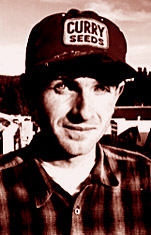 Dishwasher Pete is the pen name for U.S. zinester Pete Jordan, the writer and publisher of the now defunct Dishwasher perzine. According to his website, he moved to Amsterdam, The Netherlands in 2002, where he remains to this day, alongside his wife and family.


Dishwasher zine
For twelve years, Jordan travelled across the U.S., with the sole aim of washing dishes in all 50 states and writing about it. The resulting zine, Dishwasher attracted a legion of fans and near-legendary status within the world of zines. In total, 15 issues of Dishwasher were produced between 1989 and 2001.

Dishwasher book (zine compilation)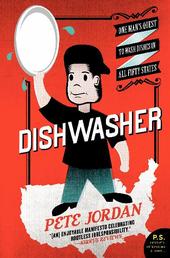 Jordan is also the author of the book DISHWASHER: One Man's Quest to Wash Dishes in All Fifty States (published May 1st, 2007 by Harper). The book compiles elements and stories from the zine (and beyond), chronicling his journey across the United States and the 33 states he eventually washed dishes in.
Appearance on Late Show with David Letterman
When Jordan's story reached the mainstream, he was invited to appear on Late Night with David Letterman. On June 27th, 1995 he was slated to appear as a guest on the show, to talk about his adventures whilst writing 'Dishwasher'. However, unbeknownst to the host, the person that appeared on stage was not Jordan, but rather his friend Jess Hilliard, who spoke to Letterman, pretending to be Jordan. During the interview, Hillard discussed food hygiene standards at some of the restaurants Jordan had worked in, before finally performing a party trick where he set his hand on fire. The story was retold in issue #12 of Dishwasher.

Years later, Jordan was invited back to the show, taking to the stage and explaining the previous imposter appearance. During the interview, in which Jordan promoted his book DISHWASHER: One Man's Quest to Wash Dishes in All Fifty States, he revealed that he stopped his quest when he met and fell in love with his future wife.


Other work
Pete has also contributed to the NPR radio show This American Life on following episodes:
Episode #56 "Name Change"
Episode #74 "Conventions"
Episode #102 "Roadtrip"
Episode #109 "Notes on Camp"
Episode #115 "First Day"
Some of Pete's writing appears on the Open Letters website:
External Link