Dishwasher
From ZineWiki
Jump to navigation
Jump to search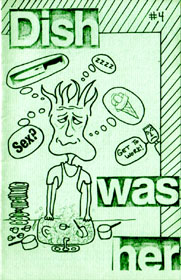 Dishwasher followed U.S. editor / publisher / zinester Pete Jordan (aka Dishwasher Pete) and his mission to wash dishes in all 50 U.S. states. 15 issues of the perzine were published between 1989 and 2001, followed by a 2007 book complied from Pete's zines and stories, entitled DISHWASHER: One Man's Quest to Wash Dishes in All Fifty States.

One issue came with an accompanying 7" compilation called Music to Wash Dishes By. The record, put out by Reno's 702 Records, features four previously unreleased songs by the Queers, the Hi-Fives, Scared of Chaka and Ten-Four. All the bands were fans of the zine and wrote songs about washing dishes. An issue of Dishwasher zine was stapled into the cover of the record.

The Open Letters Project Open Letters Archive also features Pete's writing.

Dishwasher is included in the Sarah and Jen Wolfe Zine Collection at The University of Iowa.


Appearance on Late Show with David Letterman
On June 27th, 1995 Pete Jordan was slated to appear as a guest on U.S. late night talk show, Late Show with David Letterman, to talk about his adventures whilst writing 'Dishwasher'. However, unbeknownst to the host, the person that appeared on stage was not Jordan, but rather his friend Jess Hilliard, who appeared on stage, pretending to be Jordan and talking about his exploits.

Years later, he was invited back to the show. This time, the real Jordan took to the stage and the earlier fake appearance was explained. During the interview, in which Jordan promoted his book DISHWASHER: One Man's Quest to Wash Dishes in All Fifty States, he revealed that he had only managed to wash dishes in 33 States, stopping when he met his future wife.


External Link