Bunnyhop
From ZineWiki
Jump to navigation
Jump to search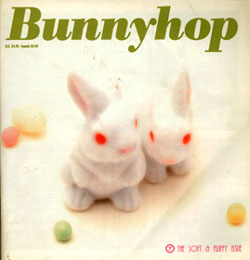 Bunnyhop was a zine published throughout the 1990s by Noel Tolentino and Seth Robson out of San Francisco, CA., U.S.A.
The editors described their zine's content as "discourses on the softer and fluffier aspects of pop culture and 'alternative' music." And while it's writing and topics were often entertaining, what set Bunnyhop apart was it's design. With it's high production values Bunnyhop looked like a magazine, although it's content, print runs and distribution made it very much a zine.
The very first issue of Bunnyhop became mired in controversy. Tolentino included the character Binky from Matt Groening's Life in Hell comic on the cover. He sent Groening a copy, assuming he'd appreciate the homage. Tolentino recounted the story in an interview for RE/Search Magazine: "When I did the cover I realized I was using characters that were trademarked or copyright-protected, but I also felt I was creating a scenario that would not otherwise have existed: placing these characters from two different worlds together. I had heard from various sources that Matt Groening was a big fan and collector of small press zines, so I got his P.O. box address. Being naive, I sent him a copy with a gushing fan letter asking to interview him. Here I was believing that Matt Groening was actually going to open my letter, not realizing that he must receive a ton of mail every day from a whole generation of slackers and counter-culture do-gooders. I was in L.A. working on the production of Ben Is Dead when the letter from the lawyers arrived." The letter Tolentino and Robson received was a cease-and-desist letter from Groening's lawyers, as a result, the remaining copies if their first issue had to be destroyed. Later Groening personally apologized to Tolentino, but he also defended his right to protect his copyright in a Mother Jones magazine interview.
Each subsequent cover of Bunnyhop featured bunnies as well, although any borrowed images were altered enough as to not violate copyright. The cover of issue #10, for instance, featured the video game Donkey Kong on the cover, but the characters in the game had been replaced by bunnies.
Robson and Tolentino helped organize the Kill Zinesters Tour in 1996, in which Bunnyhop played a fairly prominent role.
Another Bunnyhop story, "A Girl's Guide to Geek Guys", written by Ben Is Dead editor Mikki Halpin with Victoria Manassero, was one of the first pirated stories on the internet. Wired magazine's "HotWired" website posted it without permission or attribution in 1995. They later took it down, but the piece went on to have a life of its own, and is still all over the net, with various credits. Halpin wrote a book based on the story called The Geek Handbook in 2000.
Bunnyhop is included in the Sophia Smith Zine Collection at Smith College.
External Link