Boring to the Punchline
From ZineWiki
Jump to navigation
Jump to search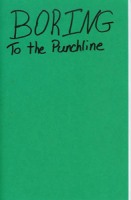 Boring to the Punchline is a text-only zine attributed to the author "Pokie Spout", but is actually written by Matt Fagan of Chicago. This zine is a companion piece to the series of Love comics by the same author.
In Love #3, the character of Pokie Spout writes and publishes a zine called Boring to the Punchline, a mostly-true account of the time that Pokie ran away to New York City to become a stand up comedian (he failed). In the course of the comic, Pokie's boyfriend Jack and best friend Jason team up to send a copy of Pokie's zine to Xerography Debt, where it could be reviewed alongside other underground press publications.
The actual copies of Boring to the Punchline were printed up without Matt Fagan's name anywhere on the zine. The handwritten bit on the back cover was done left-handed to ensure that nobody would recognize the penmanship from his comics. And the only contact information on the zine was the g-mail address pokiespout@gmail.com (which has long been an active address). With the ruse well underway, Boring to the Punchline was sent to Xerography Debt in real life, where editrix Davida Gypsy Breier facilitated the distribution of the zine to reviewers who were unfamiliar with Matt Fagan's comic work. The result was a wonderfully critical review of Boring to the Punchline, one which even directly addressed "Pokie Spout" as the author, by name! In the next volume of Love, the character of Pokie gets to read and respond to his actual review from Xerography Debt! The entire process was very metatextual. How often do you get that from a zine?