Blanc-Citron
From ZineWiki
Jump to navigation
Jump to search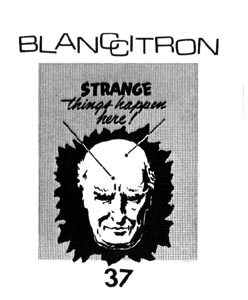 Blanc-Citron is an absurd humour science fiction fanzine by Mario Giguere.
Blanc-Citron was first published in 1983 in Quebec, Canada, and is a French language publication. The English translation of the title is White Lemon.
Blanc-Citron was a small 3 inch by 4 inch zine, and proved influential. In New Canadian Fandom, Luc Pomerleau wrote about the 1985 fan publishing scene in Quebec, "...Blanc-Citron, published by Mario Giguère, measures 3x4 inches and has spawned at least four imitators in style if not in form. These are faanish fanzines, devoted to silly interviews with the not-so-well-known fans and dissertations on every subject except SF."
Yves Meynard, in his article "Quebec Fandom: A Brief Overview" from The NCF Guide to Canadian Science Fiction, writes, "If you like William Gibson cut-out paper dolls and Godzilla, this is the fanzine for you!"
The last issue of Blanc-Citron was released in 1991, and was nominated for the 1991 Aurora Award for Best Fanzine.
Issue 3 of The Frozen Frog included a mini-issue of Blanc-Citron, #74, the title Anglicised as Lemon White for this issue.