Bite Size
From ZineWiki
Jump to navigation
Jump to search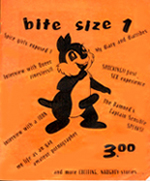 Bite Size was a one-shot zine published in Seattle, Washington by De.
Released in 2000, the zine featured interviews with comic creator Russ Turk; with Alvin, editor of Ugly Boy zine; writing by Charlotte Cooper and Michael LeMar; and articles such as "My Encounter with Captain Sensible"; "Freak Scene: My Life As a Kook Magnet"; "Queer Punk: Am I The Only One?" by Sean; "I Was A 1-900 Phone Line Host"; "How I Started My Career As A Stalker", a story about a sixth grader meeting Fonzie at a taping of Happy Days; photo and article about the queercore group Tongue Man and more, plus art by Anonymous Boy.
De Kwok also did the pop culture zine Sweet Milky Shine and contributed to Not My Small Diary.