Barnard Library
From ZineWiki
Jump to navigation
Jump to search

The Barnard Zine Library, which was proposed in 2003 and launched in 2004, focuses on zines written by New York City and other urban women with an emphasis on zines by women of color. The zines are personal and political publications on activism, anarchism, body image, third wave feminism, gender, parenting, queer community, riot grrrl, sexual assault, and other topics.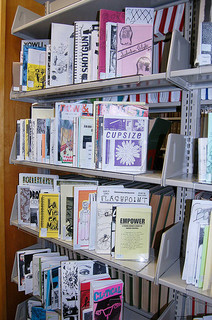 As of July 2012, there were over 3,000 zine records in the library catalog. According to the zine collection's website, "This collection aims to serve the needs of current readers and scholars and those of future researchers, Barnard and Columbia students and faculty, scholars from other academic institutions, and writers doing research for a major publishing house have used zines to research topics such as the Riot Grrrl movement, Sassy magazine, girls and education, radical parenting and other topics. ... We believe the collection will be an invaluable resource for future scholars. Zines are primary source documents that tell the story of contemporary life, culture, and politics in a multitude of women's voices that might otherwise be lost. We also hope that current readers will enjoy the collection simply for its vibrancy, humanity, and artistic value."
The collection is housed at Barnard College's Wollman Library, New York, NY. This may be the first open stack, circulating academic library zine collection, a set up that is still a rarity. The collection is overseen by Jenna Freedman, a zine publisher who has been a strong advocate for zine collections in libraries. The collection is cataloged in CLIO (Columbia Libraries Online Catalog).
Contact Jenna Freedman for more information. The library accepts donations, but requests potential donors checking in with the library first.
Barnard Zine Library
3009 Broadway
NYC 10027
Bibliography
Cohen, Bille. "College Cred." Time Out New York. Issue 549: April 6-12, 2006.
Dodge, Chris. "The New Monastic Librarians," Utne. July/August 2005: 78-80.
Freedman, Jenna, "Your Zine Tool Kit:A DIY Collection," Library Journal. June 15, 2006, v. 131, n. 11: 36-39.
Gisonny, Karen and Jenna Freedman. "Zines in Libraries: How, What, and Why?" Collection Building, v. 25, n. 1, 2006: 26-30
Hsu, Hua. File Under Other]. Boston Globe. May 6, 2007.
Johnson, Marilyn. This Book Is Overdue (chapter 7). New York, NY: HarperCollins. February 2010.
Koppel, Lily. "Zines in the Library Catalogue? Of Course." New York Times. April 11, 2006. p. B2.
People
External Links