Anubis
From ZineWiki
Jump to navigation
Jump to search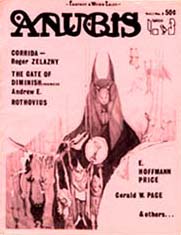 Anubis was a science fiction and horror fanzine edited by Paul J. Willis and published by Ronald J. Willis and Golden Goblin Press.
Anubis issue 1 was released in Arlington, Virginia, U.S.A. in Autumn 1966. Four issues were published. The zine ended in 1968. Contributing writers include Philip Canning, Roger Wilson Cook, Lyle Gaulding, Emily Glen, Robert Barbour Johnson, Mose Mallette, Norman G. Markham, Mercer M. McDowell, Gerald Page (Si-Fan), L.E. Preston, E. Hoffman Price, Andrew E. Rothovius, Robert M. Slater, Dr. Franklin E. Tillinghast, Bennett Weinberg, Walter J. Wentz, Ronald J. Willis, and Roger Zelazny.
Contributing artists include Vaughn Bode, Steve Hickman, J. Johnson, Tim Kirk, and Paul J. Willis.
Also included was a comic strip by Vaughn Bode.
Covers were by D. Bruce Berry, among others.
Ronald J. Willis died of brain cancer in 1975. His brother, Paul, died in the 1990s.