Amazing Wonder Tales
From ZineWiki
Jump to navigation
Jump to search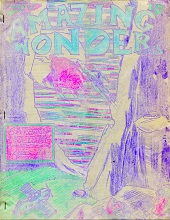 Amazing Wonder Tales was a science fiction fanzine edited by John Giunta, and published by John Guinta and Louis Maurino.
Amazing Wonder Tales was published in Brooklyn, New York, U.S.A. It lasted only one issue (#1.1), dated August 1938.
This issue included fiction by John Giunta, Louis Maurino, James V. Taurasi (Cosmic Tales), and Robert G. Thompson. Cover art was by Giunta.
John Guinta went on to edit one issue of the fanzine Cosmic Tales in 1940 and, later in the 1940s, to co-edit some issues of Fantasy-Times with James Taurasi and Raymond Van Houten.