Aggedor
From ZineWiki
Jump to navigation
Jump to search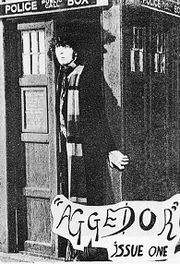 Aggedor was a media science fiction fanzine by Alec Charles.
Devoted to the television series Doctor Who, the fanzine was published in the UK between 1982 and 1986. Seven issues were released.
Contributors of writing included Peter Anghelides, Pam Baddeley, J.J.Bentham, Ronald Binnie, Alec Charles, John Connors, David J. Howe , John Lamb, Simon Lydiard, and John Nathan-Turner.
Fiction was contributed by Christopher John Harvard, and Jackie Marshall (Space Rat, Queen Bat), among others.
Featured interviews are with writer Johnny Bryne, script editor and writer Eric Saward, actor Anthony Ainley, and Janet Fielding.
Contributions of artwork were by Ronald Binnie, Alec Charles, Tony Clark, and Colin John.