AK Ink
From ZineWiki
Jump to navigation
Jump to search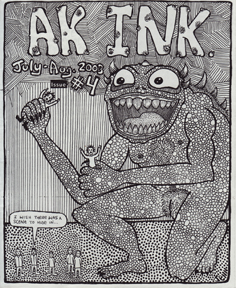 AK Ink was a punk rock music scene zine put out in Anchorage, Alaska from 2002 to 2006. It consists of 19 1/2 issues. The zine was known for its interviews, music, film, beer and show reviews, and also included art, comics, short stories, poetry, offensive horoscopes, and whatever else people wanted to contribute. It was created as a way to support the Anchorage music scene, and serve as a creative outlet for creator and artist Jennifer Gray. It also functioned as a forum for collaboration and creative contribution from the local community, as well as a way to document the scene. While it was initially intended to be a web-based zine, the fun of physically cutting and pasting the zine together took hold, and thus it became a staple publication. The zine was published every two months, both in print and on the web. Ak ink was open to all contributions and while it focused on the local Anchorage scene, the support from the national and international punk and alternative community became incorporated as a steady part of the zine.

Jennifer served as editor, producer and enforcer of contributions. Her boyfriend Myk Gray headed the music review department while also contributing to scene documentation and design. Funny man, and close friend, Chris Coleman, headed the film review department and also contributed with interviews, show reviews, and miscellaneous assignments. Jennifer, Myk, and Chris were also co-workers in a cold Alaskan warehouse where they all worked with their backs for low pay. The No Future philosophy embedded in manual labor and workplace disgruntlement fueled the working class aspect behind AK Ink. Myk Gray and Chris Coleman were also involved in the music scene as the guitarist and the drummer for the local punk band StuntCock. The zine included many artists and musicians as contributers, as the zine was focused on the community.

Because AK Ink was founded in punk rock, and more specifically in intentionally offensive, politically incorrect, scatologically inclined, low brow humor, some found the zine offensive. This is credited to Jennifer's personal interest in crass humor, and her lack of interest in censoring the contributions of others. While she takes full responsibility for all offensive remarks, she attempted to counter the rude approach by including all types of opinions, views, and counter remarks as part of the zine to represent the full spectrum of ideas and opinions from all AK Ink contributors as well as those with an affinity towards punk publications.

What AK Ink became after years of promoting and refining, was an invaluable documentation of the local Anchorage scene and punk community ranging from 2002 to 2006 with contributions firsthand from the scene itself.

Ak Ink's demise came in the spring of 2006 when Jennifer's interest in creative output demanded further attention to formal training in the arts. She ultimately quit the zine to finish her BFA. School to Jennifer was also an escape route from a future of hard labor. In the middle of issue 20, with half of the zine already posted online, and after a still unpublished Dead Kennedys interview, she abruptly quit the zine to attend to personal matters. The paper copy of issue 20 was never released. While notice of the decline of AK Ink was announced, submissions and contributions continued to pour in the mail until the PO Box was officially closed. To this day a large basket of contributions and submissions sits untouched waiting for retribution and review. The amount of contributions AK Ink had received testifies to the extreme support that the punk community has for each other. Because the online zine became defunct without proper backup, part of issue 20 is now lost. Jennifer's future intent is to re-release issue 20 and include reviews of all the lingering contributions and submissions. This will finalize AK Ink's existence and close the door on that chapter of scene documentation.

Jennifer's current interest has shifted to fine art, while incorporating aspects of punk rock and the zine culture. Her 2011 Thesis 'Rise Above' highlights this interest in a zine inspired collage of punk drawings and hand drawn typography. Her current work is also derived from these passions. Myk's interest in design saved him from a life of back labor, and with a portfolio that included design work for AK Ink, he secured a career as a graphic designer. Chris has also left the manual labor field to pursue a career in stand-up comedy and radio. His wit, which was exploited in AK Ink, has finally been put to good use. Notable and reoccurring contributors to the zine include Herbert Haygood (aka Wrick Luv, Wricky Bee, and Richie), Nathan Anderson (N8O), Angie Winfield, Elisa Honsacker, Ryan Murdock, Shane St. Clair, Ted Kim, David Broadway (Frenchy), Love Nut, Josh Medsker, Kara Simon, Michael Shaeffer, Matthew Johnson, and many many more.
Issues
AK Ink #1
Intro. Interview with Scott emery of Nervis Rex. Misc. Introductions to Anchorage beer venues. Music reviews of Nervis Rex, and StuntCock. Chris's Movie Reviews of 8 Mile, GoldMember & Happy Hour. Pogo Dancing article. Short stories by jenn, Elisa, Wrickey Bee, Angie, Carlie, and others. Misc. Offensive Horoscopes. Show review at the Indica Haus 12/27/2002 with Cosmasaraus, Passenger, and HugaMutha. Comic by jenn. Misc.
AK Ink #2
Myk's music reviews of UnderClass, Los Griswolds, White Frogs, Prestone 44, SCROTUM, Angry Brigade, Iron Shit Snakes, Common Ground, Friendly Fire, Way-Point, Full On, Mr. Once A Day, The Roughnecks, Hotter Then Karl, One Armed Villian, Scum of the Earth, SBGB, and Right Back Edje. Coleman's Movie Reviews of Class of 1984, Lord of the Rings, Fear of Punk Planet episodes 1-3, and Full Metel Edges. Interview with Vinnie Almanza of Rebirth Tattoo. Small Label article, Manic Hispanic article. Short story by jenn. Elisa's Cock & Bull short stories. Beer review. Russin Jack show review with Spitshine, Enfant Terrible, Born Losers, Flying Falcons, and Stubby's Crack Co. Offensive HororScopes. Comic by jenn. Misc.
AK Ink #3
Myk's music reviews of Bloody Sods, Politicide, Hotrod Lunatics, Martial Law, Hot Potty, Die Monster Die, The StandIn, MisDirected, RiotGun, The Last Laugh Program, The Butcher Boys, FiJ, and $50 Flander. CRS's Movie Reviews of Dogtown and the Z-boys, Vans Warped Tour Live, and SledNecks 4. Short story. Advice from the Dwarves. Interview with Jesse Luscious (Blatz, The Criminals, The Frisk, etc). Lion's Den show review 4/4/2003 with Misnomer, Strictly Monotone, StuntCock, Space Cadets, and Fetal Genocide. Carousel Lounge show review 4/18/2003 with Economy Car, Sparrow, and the Born Losers by jenn and Angie. Short story about why Koots sucks. Coffee short stories. Asshole contest story. Moose's Tooth beer review. Offensive Horoscopes. Misc. Comic by jenn. Letter to the Editor. Food article. Exclusive Saddam Hussein Interview. Misc.
AK Ink #4
Punk Stock 2003 June 29th Cuddy Family Midtown Park show review with SpitShine, Knee Deep, Sensory Dep, Hugga-Mutha, Fats TunaMelt, Billy Dirt Cult, Stubby's Crack Co. (appearing as "Stubby's Crack House Rockers"), Eu Vasum, and Ex-Oblivon. Interview with Nato, StuntCock's new bassist, Angie and jenn beer review, music reviews of Broken Society, Ball Sniffer, 3 Monkeys Named Bob, ACK, 4 Fridges, Red Team Go, Blatant Ridicule, Stool Sample, Tuesday's Hate, The After Glows, The Fuck Ups, The Eye Sores, The Audio Rapists, and Existence. Short stories, Interview with Eric Lizer of Up Concerts, Crs's film reviews, photo comic, misc, offensive horoscopes, poetry, and "Ho-Ho-Ho A Christmas Story" comic by jenn.
AK Ink #5
Music reviews of Crash Course, Knuckle Buster, Fixa Idea, V-Town Have Nots, Ass Kickers, Throw Away Kids, Drink Fight Thugs, Against the Grain, Low Profile, Los Mel Gibsons, Dr. Dirty Sanchez, and Goy. Crs's film reviews. Interview with SpitShine. Beer review by Ian, Chazz & Nate. Exodus July 31st 2003 at Koots show review. Photo comic. Comic by jenn. Not really a beer review. "A Buck A Band" show review at the Lion's Den in Eagle River August 9th 2003 with The Space Cadets, Fetal Genocide, StuntCock, and SpitShine. Offensive Horroscopes and misc.
AK Ink #6
Music reviews of Guff, The Controls, Faction, Amazombies, Capture the Flag, The Kinison, Loose In Eight, DRI, and Verbal Abuse. Crs's film reviews of Logan's Run, Lame, Stezzin For No Reason, Kill Bill, Being Your Own Boss, and The Show Must Go Off Alkaline Trio. Got Mosh?! Show review on September 21st 2003 at the Lion's Den in Eagle River by N8O. Poetry. Lambic beer review. "The Walk" Story of Angie and jenn. Exclusive bonus addition sticker page in the center of the zine. Fat's Tuna Melt interview by N8O. BlackOut interview. The Twelve Days of X-Mas photo comic with Chris Coleman. Koots show review on October 22nd 2003 with Sensory Dep, and Hammerfist by Crs. Sensory Dep Interview by Crs. Offensive horrorscopes and misc.
Ak Ink #7
Music reviews of Vic Bondi/Articles of Faith Split, Thrall, DutchToon, 16 Hour Drive, Duck Hunts, American Made, Live For Today, EuVusahm/Billy Dirt Cult Split, A Good Name for a Band, 3 Wheela, and Fats Tuna Melt. Crs's film reviews of They Live, The Warp Tour Presents: Punk Rock Summer, Haggard, The Show Must Go Off: GutterMouth, and Shakedown. Interview with Dan LaPan of Subterranea by N8O. Beer review by Mike Beer of Beer City Records. Center of zine consists of a board game called "Go to the Show!" with an additional attachment of board game pieces including cards to draw from and cut out punk characters, which are pieces for the game. Short stories, misc. Loud & Heavy show review by N8O at the Kincaid Annex with Loose In Eight, Subconscious, and SpitShine. EuVusahm/Billy Dirt Cult Split Record Release show review at Mammoth Music on Dimond. Vally Bistro show review November 28th, 2003 with The Fresh Raspberries, StuntCock, SpitShine, and Copia. Offensive horrorscopes and misc.
Ak Ink #8
Letters to the editor, music reviews of Counter Attack comp, Furious World split, I Voted for Kudos, Flying Falcon, MDC, ChoapWhips and Leather Face. IN FROM THE COLD show review January 23, 2004 at Bitoz by Sarah w/the Pink with BlackOut, SpitShine, and StuntCock. Scene Report #666 Febuary 7th 2004 at Bitoz by Wrick Luv with SpitShine and Fats TunaMelt. Crs's Film Reviews of Romper Stomper, Punk O'Rama, Mike V's Greatest Hits, The Show Must Go Off #9, and Stan Lee's Mutants, Monsters & Marvels. Rant. Misc. Dirty Dick beer review by Mike Beer. Wrick Luv's Scene Report Saturday January 10th 2004, Misc. N8O's Scene Review. Interview with Blake from BPU by Elisa. Barly Wine Fest 2004 review. The Adventures of JENN-RA The Red Advenger comic by jenn. Misc. Horrorscopes: Verbal Abuse by Elisa. Letter. More misc.
Ak Ink #9
Cover by Ted Kim. Intro. Music reviews of Jackass, AVSKUM, Kylesa, Philippino HairCut/Liquid Bandade split, The Low Budgets, Modern Day Urban Barbarians, Mezzanine C14, The Stillborns, Dissent, SelfShit, and PUNK WITHOUT BOARDERS comp. Movie Reviews by CRS of The Show Must Go Off #10 and #11, NO SKATEBOARDING!, Tenacious D: The Complete Masterworks, and Class of Nuke Em High. The CoachWhips Tour Alaska show reviews: Fiori D Italia with Coach Whips, Stubby's Crack Co, and Fats TunaMelt by Angie. Coach Whips at Bitoz April 23rd 2004 with StuntCock and FatsTunaMelt by jenn. JENN-RA The Red Advenger comic by jenn continues. Interview with Albert of Bitoz by N8O. Live & Local show review at Koots with SpitShine & StuntCock by Amanda. Rant by Brian. Beer review by jenn. Misc. Whiskey review by Mike Beer. BAD ACID story by Katie with a C. Horrorscopes: Verbal Abuse by jenn. Comic by Ted Kim.
Ak Ink #10
Intro. Letters to the editor. Myk's music reviews of Artimus Pyle, HateWork, Impulse Manslaughter, Flying Falcons, and Sunday Morning Einsteins. Crs's movie reviews of Bubba Hotep, The Show Must Go Off #12: Zebrahead, & #13: Bleeding Through, Seacret Weapons of Kung Fu #2, and Fahrenheit 9/11. A Face in the Crowd show review for Eagle River's Skate Park Fund Raiser at Lion's Den on May 22nd 2004 with SpitShine, StuntCock, Brothers Contra, and Misnomer. Bitoz in Back show review at Bitoz by CRS with X's for Eyes, Brothers Contra, and SpitShine. Sticker page in the center of the zine. Tesoro Sports Center show review by Amanda with SpitShine & StuntCock. JENN-RA The Red Advenger comic by jenn conclusion. Girly Shots alcohol review by Amanda. DIY Clothing Projects by Sarah. Flying Falcons interview by CRS. HorrorScopes and other Verbal Abuse by N8O.
Ak Ink #11
Intro. Myk's music review of Forensics, The Knockout Pills, Midnight Evils, The Phantasmagoric Cabaret, Signal Lost, Stiff Little Fingers, and Pistol Grip. Films Per CRS of Cannibal! The Musical, Hobo Goblin's Fortress, Rock Against Bush Vol. 2, Rich Kids on LSD: Still Failing After All These Beers, and NOFX's Ten Years of Fucking Up. Tree Dan's House Party show review July 19th 2004 by Crystal with SpitShine, Koolaid Kids, The Hobo Goblins, Hugamutha, Euvasahm, Forensics, and the Ork Metal Puppet Show. Plague Water Brewing Collective Interview with Dylan McPuke by Richie and jenn. Forensics interview by jenn Myk and Crs. Mohawks Rant. Icey Alaskan Beer Review by Ian, Chazz & Ryan. KWHL's Battle of the Bands at the Peanut Farm by Amanda with The Fozen Chosen, Flight Risk, Dead on 4th, Dirty Little Monkey, Valhalla, SpitShine, Double Fines, Crail, MakeShift, Kinetic, and Dekcuf. International Maggot Theatre Puppet Show of The Burning Face Ork Tribe July 13th 2004 at Bitoz review by jenn. Interview with International Maggot Theatre by Richie. HorrorScopes by N8O.
Ak Ink #12
Cover by jenn. Intro. Myk & Ryan's music reviews of Cripple Kid/Little Dipper split, BeerZone: Against the Flow, Tetsuo: Malmehrahkign, AssKickers: Let It Burn, Organic: The Life and Times of Sal Sagev, Frenchy: Ask Me If I Give A Fuck?, Crush Kerry comp, and The Stillborns. Films by CRS movie reviews of Sid n Nancy, Turnagain Hardcore 4, and The Show Must Go Off #15: Throw Rag. 5 Punk Rock Tips short story. Interview with The Scurvies 10/23/2004 by Alicia. Beer Review by jenn. Interview with Nathan from 58 Road Signs by Little Sarah. Ween show review by Wrick Luv. Ween show review by CRS. North Slope Bar show review by N8O with T.S. Scream & SpitShine. Misc. Show review by Angie at the Carousel 10/9/2004 with Wupt & Stubby's Crack Co.
AK Ink #13
Cover by Ted Kim. Intro. Myk's music reviews of Basement Records: Radio Disaster Volume 8, Bankrupt, Dead by Gun, Punks & Pints, Autonomadic, Microcosm Publishing: The Roswells, Delphi, Fat Sally, Day to Dismember, Basement Records: 33 1\3 RPMS, and Microcosm Publishing: Rock, Star review by CRS. Eu Vusahm interview by jenn. Film reviews by CRS of Barfly, Yellow Card, Kung Fu Records Episode 16: Circle Jerks, Josh Medsker interview by jenn. Bitoz show review November 20, 2004 with Winterset, Secret Santa, Flying Falcons, and Eu Vusahm by jenn. Irish Beer review. Neal Pollack interview by Josh Medsker. Center of the zine contains a 8 ½ x 14" poster of cut out people from the scene. The Derelicts & Poetry by Duane Lance Bodenhemier. Autonomatic interview with Chad by jenn. Anarchism: What It Is & What It Isn't by Chaz Bufe. Ted Kim interview by jenn. Make Some Copies article. The Wrick Luv Junket by Wrick Luv. The Poo Review by CRS. The Evolution of Emotional Punk comic by jenn. Back cover by Ted Kim.
AK Ink #14
Cover by jenn. Intro. Music reviews by Myk of Recthing Red, Make Out Music: Infidel, Bullet Treatment/The Nipples split, The Low Budgets, Cult Figures, and Westside Proletariat. Music reviews by CRS of The Commodes, Arise Records: The Militia Group comp, and The Wobblies. Misc. Interview w/ Carpe Necrum by jenn. CRS's film reviews of Suburbia and RPS. Zine article featuring A Hundred Dollars and a T-Shirt. Poetry by Frenchy and Kara Simon. Show review at Bitoz Febuary 25, 2005 by CRS with Trist, Strept, Mercy Should Hurt, Driveline, Broken Parable and Memento Mori. Rant by Ian. A Good Name For A Band interview by Myk. Suffocating Man column by Lane Lovegrove. PMA Motherfuckers column by Katie. Alienation: The Map of Despair Space/Time Control, Space Travel and Space Exploration. Sharron Needles poem by Duane Lance Bodenhemier. Beer & Barly Wine Fest 2005 review by Angie & jenn. The Adventures of The Disgusting Monster Man comic by jenn.
AK Ink #15
When Hippies Attack cover. Intro. Music reviews by Myk and CRS of Heartfelt Discord: Something From Within, Righteous Jams: Rage of Discpline, International Businessmen: The Formula, Minmae: I'd be Scared, Were You Still Burning, Mother Nature's Revenge, and Tension Wire: Rips, Punctures, Tears & Fractures. Two Days, Three Shows story by Myk. Film reviews by CRS of THX:1138 and Sin City. World's Greatest Zombie by Michael Shaeffer. Show review by Love Nut March 18, 2005 at Bitoz with SpitShine, Double Fines and StuntCock. Resistance Hippy photo comic by jenn and Frenchy. The Reprehensibles interview by Josh Rukovishnikoff. Show review by Willy D at Bitoz April 22, 2005 with Strept, Mercy Should Hurt, Jupiter Sunrise, and Carpe Necrum. How I Was Mauled By A 1986 Playboy Model At Carly's Birthday story by Wrick Luv. Linux article by Oliver Savage.
AK Ink #16
Intro. Music reviews by Myk & CRS of Love Nut, Noise Attack, Useless ID, Throw Rag, Basement Records: Spider, Bleeder Resistor, Jiyuna, Blei, Masque, Balatonizer, Life Before This, BullDozer and Weapons of Choice. At The StuntCock Show With Beer show review by Bekah & Cody. Blackout Radio music review by Ryan. Remember Beefadelphia? By Wrick Luv. CRS's film reviews of The First Amendment Project, Kung Fu's The Show Must Go Off: Tsunami Bomb, and Cake Boy. Jenn's film review of Orwell Rolls In His Grave. Interview with Joe Escalante about Cake Boy n stuff by CRS. Dallas Hilton Hangover poem by Michael Shaeffer. The Misfits Live at Koots show review June 3, 2005 by N8O. The Misfits in Fairbanks show review by Ryan. Peter N The Pole poem by Michael Shaeffer. Misc. HorrorScopes by Love Nut. More misc.
AK Ink #17
Cover by jenn. Music review by Myk, Shane, Ryan, CRS and jenn of Agape, The Misfits Meet the Nutley Brass: Fiend Club Lounge, The Nipples: Filthy Lyrics, Happy Kids, Olive's Hairy Custard: Topplers Value, Punk Rock Is Your Friend sampler from Kung Fu, BlackMaker: Staggering to the Surface, Careen: Crash Couture, Grave for the Fireflies: Bitten, Mong: The Sound of Mong, and Tearable Noetic/ Find Your Face a Smile Split: Starecase Showcase. Cuddy Park show review August 5, 2005 by jenn with Chicago 8, Taking To Arms, Stubby's Crack Co., Devil Don't Care, Fats Tuna Melt, Los Grand Torinos, The Moon Knights, Splatter Art, Ex's For Eyes, Flying Falcons, StuntCock, SpitShine and Double Fines. Beer Review by Mariel. CRS's film reviews of Fahrenheit 451, and Secret Weapons of Kung Fu #3. D.I.Y. Project #666. An interview with Joe Long by jenn with Tree Dan, Trey, Alicia, Dirty Boy, Rick, Shasha, Carly, Ali, Jeff, and Richie. Cold Pussy short story by Matthew Johnson. The Top Ten From 91: What Were You Listening To? poem by Michael Shaeffer. Misc. Good Times short story by Andy Hodge. Mercy Should Hurt show review July 4, 2005 by A.P. HorrorScopes by Love Nut.
AK Ink #18
Cover by jenn. Intro. Music reviews by Myk & Shane of The Strap-Ons, Caterpillar Tracks, All or Nothing HC: What Doesn't Kill You, On The Rag Record: Put Some Pussy In Your Punk comp, DRI: Live at CBGBs 1984, Broken Bones: FOAD, The Inoculators: Dropped Their Brains, Humans Bow Down: A Mirror, PONG: Bubble City, JADED52: Opportunity, Fat Day: Snarl of Pulchritude, Paint By Numbers: Plastic, BullDozer: Trouble Maker, Verses The World, The Very Foundation: Small Reserves, and Heath Berg: Rolling Echoes. Film reviews by CRS of The Show Must Go Off! #18: Dance Hall Crashers, Punk O Rama 10, Atom and His Package: Hair: Debatable, and jenn's review of The Show Must Go Off! #19: Bouncing Souls. Interview with StuntCock about new album: Geographically Fucked by jenn. HorrorScopes by jenn. Misc. Christian Slater Gets Another Visitor poem by Michael Shaeffer. Fat Tour Alaska by CRS with The Soviettes, Smoke or Fire and Against Me! Interview with skateboarder Danny Atkins by Ted Kim. Marlboro Man story by Matthew Johnson. Rant #907 by Katio-O. Police Brutality Protest show review 10/22/05 in Honolulu Hawaii by Keith with Bathe in Red Iodine, Cracked Skull, Hell Caminos, Black Square, 86 List, Shoko Kono and Extra Stout. Misc. Paris Is Burning story by Frenchy. Show review at Bitoz 10/8/05 by jenn with Seasons of Murder, SpitShine, StuntCock and Josef and the Stalenites. Chris Beaver's CD release show: Sinney Heart at Noble's Diner 10/13/05 by Wrick Luv. Why Can't Bands That Play Shows Knock Off All The Songs About Feelings And Bullshit And Play Songs That The Crowd Can Relate To? poem by jenn. My Beer Story by Tippy McStaggers. Belgian Beers Pop Quiz. Back cover by jenn.
AK Ink #19
Intro. Music reviews by Myk, Shane, Ryan and CRS of Cab Assassin, Grounded: Revolution Jukebox, Make Out Music: Segrenation, The Vandals: Shingo Japanese Remix Album, Greyday Records: 20 Nights of Wine and Song, The Sweethearts: Looks Could Kill, Fenix TX: Purple Reign in Blood, Louis James: So Unreal, Green Carnation: The Acoustic Verses, Brunt Of It: Certain Uncertainty, Colonial Excess: Mute, and The Bodies: Addicted To You. Misc. Film reviews by Jodie of Between Resistance & Community: The Long Island Do It Yourself Punk Scene and The Edukators, and film review of DRI: Live at CBGBs 1984 by jenn. Misc. Letter and short story: Reactions by Joel Kopical. Beer Review by jenn. Misc. As Sin short story by Matthew Johnson. Misc. Back cover by jenn.