12 Items or Less
From ZineWiki
Jump to navigation
Jump to search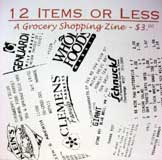 12 Items or Less, subtitled "A Grocery Shopping Zine", is a one shot, the 2nd installment in the "Low Hug Life Maintenance series".
This a collection of 23 writers and comic artists all pondering about grocery shopping, from both sides of the counter.

Great layout, smart engaging writing, plus fine illustrations and cartoons. Read about the 2 worst odors in a grocery store (one is bad watermelon), or why one customer asked "Is there any cheese that's particularly Christian?". Or about Kevin, the check out guy who would cease scanning in the 10 item or less aisle after the 10th item!

And what about plastic or paper you may ask? The zine is wrapped in a paper bag with a limited edition of 200. All this produced by zinester A.J. Michel, from Champaign, Il.

The first edition of "12 Items or Less" was produced in Feburary 2003. A second printing of 500 (without the paper bag) was printed in August 2003.
Notable contributors include Davida Gypsy Breier, Shawn Granton, Eric Lyden and Carrie McNinch.
"12 Items or Less" is now out of print. However, the best selections from the one-shot were collected in "Practice Apartment" a compilation of the the best writing from 12 Items or Less, Laundry Basket, and Potluck!.