The Proper Boskonian
From ZineWiki
Jump to navigation
Jump to search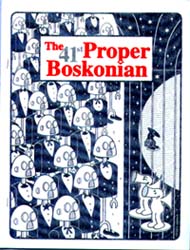 The Proper Boskonian is a science fiction fanzine published by the New England Science Fiction Association.
The NESFS came into being September 23, 1967 in Boston, Massachestts, U.S.A. and agreed it should publish a fanzine, which was called The Proper Boskonian The founding editor was Cory Panshin (nee Seidman). The fanzine officially started with issue 0, which was published October 31, 1967. Cory Panshin edited four more issues before she passed the reins onto Richard Harter, who co-edited with Marsha Elkin, with Mike Symes as Art Editor. This team issued issues 5-9. They were follwed by Tony Lewis (#11), David Stever (#13), Sheila Glover D'Ammassa (#14-#16), Mike Blake (#17), James Mark Anderson (aka Richard Harter)(#18-#23), Joe Rico(#26) Laurie D.T. Mann (#27-#29), Kenneth Knabbe (#30-#38), Lisa Hertel (#39-#44).
The zine ended in 2003.
Contributors have included Dainis Bisenieks on Soviet fanzines, Mario B. Bosnyak, Michael A. Burstein, Nathan Childers, Bob Devney, Marsha Elkin, Mike Glicksohn (Energumen), Doug Hoylman, Evelyn C. Leeper, Mark Leeper, Anthony Lewis, Sue Lewis, Alan Lustiger, Craig McDonough, Joe Ross, Mike Symes.
Contributing artists included Margaret Dominick (as DEA) Stephen Fabian, Jack Gaughan, Mike Gilbert, Ian Gunn, Gene Klein (aka Gene Simmons), and William Rotsler.
Cory Panshin had previously co-edited, with Leslie Turek, six issues of the MITSFS fanzine Twilight Zine from 1966 to 1967.
External Links