The Absinthe Faery
From ZineWiki
Jump to navigation
Jump to search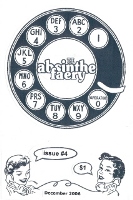 The Absinthe Faery was created in September of 2006 by a high school freshman, Marina. Each issue was mainly poems, but also includes various art and photography, prose, short stories, zine reviews, continuing one sentence stories, madlibs/movie reviews, tips on trading zines, personal reflections, articles on Riot Grrrl culture and even an interview with Kathleen Hanna.
This zine was Marina's first and a new issue was routinely finished every month, for five months. When Spring semester started, a full schedule and challenging classes prevented more issues from being completed. Issues are still distributed, and issue six is half done.
Issue Five
Issue Five of The Absinthe Faery is a Riot Grrrl themed issue. It begins with an article about editor Marina's introduction to Riot Grrrl and her instant interest in the movement. Other pieces include and explanation of the movement and discussions of issues such as eating disorders and gossip. In addition to the articles are photographs, poems, a short story and an interview with Kathleen Hanna. All the writing was taken from a research project Marina was assigned in eighth grade, though it has been shortened and not all of the thirty page paper has been included.
See Also
Contact
nevermind1967@aol.com
External Link