So midwest
From ZineWiki
Jump to navigation
Jump to search
The printable version is no longer supported and may have rendering errors. Please update your browser bookmarks and please use the default browser print function instead.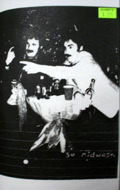 so midwest is a 238 page book-sized perzine by zinester lb of Chicago, Illinois. It tells the story of the author's daily life and work as a grocery bagger.
lb has also published the zines susie is a robot and truckface.
External Links