Truckface
From ZineWiki
Jump to navigation
Jump to search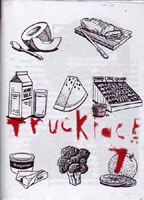 Truckface is a black and white perzine published by lb.
Many of the covers feature two or more color screen printed designs. It features hand drawn illustrations by lb from Chicago, Illinois. Early issues feature humorous stories about awkward social situations and travel. Later genderqueer LB studies to become and then begins a career as a high school English teacher.
lb has also published the zines so midwest and susie is a robot.
External Links