Rare Constellations
From ZineWiki
Jump to navigation
Jump to search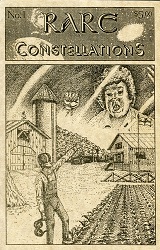 Rare Constellations was a genre zine edited and published by Dana K. Allen, Paul K. Allen, and Charlotte H. Deskins.
Subtitled "for tales happening under strange and exotic stars", it was devoted to weird fiction and the macabre, and was published in Princeton, West Virginia, U.S.A.
The first issue of Rare Constellations was dated July 1993, and contained fiction, nonfiction, and poetry. The second issue appeared in October 1993.
Contributions came from Cindy Allen, Dana K. Allen, Mike Allen (Mythic Delirium), Paul K. Allen, Donna Lee Bobbs, Lisa Jean Bothell (Heliocentric Net), Brian Bradford, Charlotte Deskins, J.M. Donnelley, Fred Eichelman, D.F. Lewis (Nemonymous), Deanna Lund, Elishia Pierce, Bennet Pomerantz, Charles M. Saplak, Margaret B. Simon (Star*Line), Stig Torgesen, and Mike Vandeloecht.
Cover art was by Darrell Gillenwater Jr., who also provided interior illustrations, along with Dana K. Allen, Charlotte H. Deskins, Chris Renfroe, and Margaret B. Simon.