Penny Sentinel
From ZineWiki
Jump to navigation
Jump to search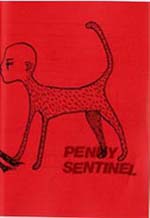 Penny Sentinel was a perzine by Australian zinester Emma Davidson.
Issue #1 (2005) contained writing about moving house, Dada, political art, religion and record collections (and collectors), as well as a comic called 'Black Dog' and numerous collages, line drawings and textual detournements of a whimsical and melancholy quality.
Issue #2 (2005) was a limited edition art zine comprised of pages from 1970s childrens' books and jigsaw puzzle pieces. It was made as part of the Post No Bills project, and available only to participants in that project.
Issue #3 (2006) consisted of a single A3 page, featuring the next instalment of the 'Black Dog' comic on one side and personal writing on the other.
Penny Sentinel is now defunct.