One Solution
From ZineWiki
Jump to navigation
Jump to search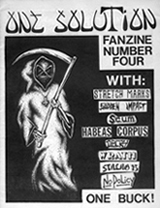 One Solution was a hardcore punk fanzine edited by Morgan Gerard and published in Toronto, Ontario, Canada.
A number of issues of this zine were released in the 1980's covering the hardcore punk scene both locally, in Toronto, and throughout North America. The first three issues were photocopied, but by the fourth issue the zine was printed.
Issue three featured interviews with Articles of Faith, Personality Crisis, Necros, Tim Yohannan, Disorder, Chips Patrol, and Effigies.
Issue four contained interviews with Sudden Impact, No Policy, Wrath, Stretch Marks, and S.C.U.M. (Society Under Controlled Murderers), Stalag 13, Habeas Corpus, Decry.
Each issue featured news on up-coming shows and recordings, opinion pieces, live in-concert photos, graphics, comics, reviews of live shows and recordings, and reviews of zines such as Ink Disease, Leading Edge, Negative Print, Nieuwe Koekrand, Primitive Noise, The Rash, Suburban Voice, Wild Times, and xXx. The stand-out feature of the zine that separated it from others is that it devoted one page to fishing, called "Fish 2 Live Live 2 Live". It featured fishing stories from Toronto, Ottawa, Oxnard, and Rice Lake.
Contributors included Mike Brown, John Crawford, Rockin' Reid English, Allison Lyne, Neil Morrison, James O, Joe Sary, Brian Walsby, and Laurie-Anne White.