I Hate This Part of Texas
From ZineWiki
Jump to navigation
Jump to search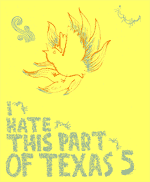 I Hate This Part of Texas is a perzine by John Gerken of New Orleans, LA.
The title was a line of graffiti the author read at a rest stop in Oklahoma. The zine addresses queer and feminist issues through a number of personal anecdotes. Several issues have addressed Hurricane Katrina, notably Issue #7, which was a split with Keep Loving Keep Fighting #7.
John Gerken was one of the participating zinesters on the Y'erd Me? Zine Tour of the east coast in November of 2002, reading from I Hate This Part of Texas. The selections read from the zine were later documented in the compilation zine Y'erd Me?, which included the work of all the touring zinesters.
I Hate This Part of Texas was one of twenty zines from which writing was featured in the anthology book by Ethan Clark, called Stories Care Forgot: An Anthology of New Orleans Zines, published in 2006 by Last Gasp. John Gerken wrote the introduction for the book, which also included the zine editors' experiences of Hurricane Katrina. Proceeds from its sale went to grass roots organizations working in New Orleans.
In 2008, selections from I Hate This Part of texas appeared in volume nine of Zine Yearbook.
External Links