Hermenaut
From ZineWiki
Jump to navigation
Jump to search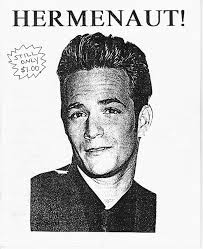 Hermenaut: The Digest of Heady Philosophy for Teens was a philosophy zine edited and published by Joshua Glenn.
The title is an original coinage, both a satirical jab at "hermeneutics" (the so-called science of interpretation) and a nod to argonauts, astronauts, and others who've voyaged across a trackless void in search of adventure and a better world. Despite the subtitle, the writing was never aimed at teens. Rumor has it that the editors of Hermenaut were trying to trick Sassy Magazine into naming it Sassy's "Zine-of-the-Month" -- which, in fact, did happen. The subtitle was later shortened to "The Digest of Heady Philosophy," then dropped.
Each issue was devoted to a particular theme, using pop culture icons --such as Bruce Lee and Princess Diana-- as a means to discuss heady philosophy (e.g., "Camp: An Introduction"). The highlight of every issue was an honorary "Hermenaut of the Month."
The first issue of Hermenaut appeared in 1992. Hermenaut continued to be published sporadically in the new millenium, both in print and on the Web. The editors took part in the 1996 Kill Zinesters Tour, and later relocated from Minneapolis, MN to Jamaica Plain, MA.
External Links