Greenzine
From ZineWiki
Jump to navigation
Jump to search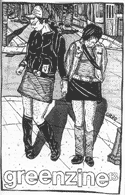 Greenzine is a perzine written by New York artist Cristy Road.
Greez Zine began as a Green Day fanzine, but gradually became a perzine about Road's various homes between Miami and Philadelphia, racism in her communities, the strength of her friends, coming to terms with assault, gender, sexuality, and identity and more. It has been featured in Volumes Six, Seven and Eight of Zine Yearbook.
Issue 14 was published by Microcosm Publishing in 2004 with an initial print run of 2,000 copies. 2,000 additional copies have been printed to date.
For issue 15 of Greenzine, Road decided instead to have Microcosm Publishing publish a paperback illustrated novel, entitled Indestructible, as opposed to the off set printing and saddle-stitching of her previous issues.
Greenzine, and the art work of Cristy Road, was featured in the exhibition The Copyist Conspiracy: An Exhibition of Zine Art in San Francisco in 2005. Cristy's artwork also appeared in No Need For Sleep: an exhibition of visual art by zine makers and the zines they produce, first held in Madison, Wisconsin in October of 2006, and then in Milwaukee in November of that same year.
Greenzine is included in the West Coast Zine Collection at San Diego State University.
External links