Comic Art
From ZineWiki
Jump to navigation
Jump to search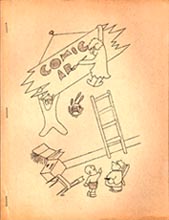 Comic Art is a fanzine by Maggie Thompson and Don Thompson, published by Oblivion Press.
The first issue of Comic Art was released in Cleveland, Ohio, U.S.A. in the Spring of 1961. It was a mimeographed, 14 page fanzine. As described in the editorial "The Word" in issue 1, Comic Art was devoted to all areas of cartooning, including comic strips, books, animation in movies and on television, and political cartooning. It also included the article "Rebirth" by Richard Lupos, editor of Xero, which Don and Maggie both contributed to; illustrations by Paul Curtis and Larry Ivie; an article on the Comics Code by the editors; as well as a reader's poll.
With issue two, Comic Art began to receive letters from readers such as Carl Barks and Harvey Kurtzman. Contributors of writing included animation historian Michael Barrier writing on the Barks duck stories, Harlan Ellison (Science Fantasy Bulletin), and Matthew H. Murphy, writing on Dell and Gold Key Comics.
Also included was an interview with Carl Barks by Malcolm Willits, editor of The Comic Collector's News. The interview has originally been done in 1962, but the Disney company had not allowed it to be published until after Walt Disney died, and it finally appeared in Comic Art No. 7, published in 1968.
Other contributors included George Scithers.
Comic Art ran from 1961 till 1968, with seven issues published. By the last issue it was a 76 page fanzine that during its run had laid the foundation for comics fandom.
External Links