You can't hide your love forever
From ZineWiki
Jump to navigation
Jump to search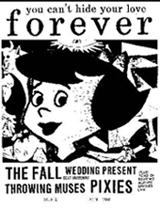 you cant hide your love forever is a zine published by Alan Kovan and edited by Dave Segal, Michael Segal and John Huston.
This zine was released in Michigan during the late 1980's and continued into the 1990's. It features indie rock, punk, post-punk, and lo-fi bands from the late 1980's such as Beat Happening, The Fall, The Flatmates, Vulva, and Wedding Present. Issue two features interviews with Black Francis of The Pixies, They Might be Giants, and Kristen Hersh of Throwing Muses; issue four features interviews with Loop, Lush, My Bloody Valentine, World Domination Enterprises, Melody Maker magazine rock critic Simon Reynolds, and author Dennis Cooper. Other articles include a history of Noise Rock and the label Sub Pop. you can't hide your love forever also featured extensive reviews of recordings.
The staff for this zine are listed as Michael Segal, John Huston, and David Segal, and contributors are Prudence Bititnikoff and Paula G. Pfaff. Other contributors included Geoffrey Fitton and Erin Smith who also, along with Gregg Newsom, provided photos, and artwork by David Gedge.
External Links