What you can learn from a Glamour Girl
From ZineWiki
Jump to navigation
Jump to search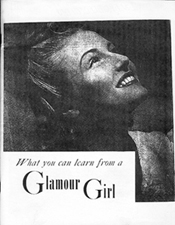 What you can learn from a Glamour Girl is a one-shot zine by Larissa from Orange County, California, U.S.A.
Larissa's zine was published in the 1990's, during the early years of Riot Grrrl. She writes about having her own radio show called Rebel Girl Radio that affords her a chance to escape Orange County and go see Joan Jett perform in Los Angeles and meet her backstage afterwards. She writes about her trip to Northern California, another chance to escape Orange County, "that horrible right-wing place", and visit Santa Cruz, San Francisco and Oakland. There are articles and pictures of the heyday of car culture, about travelling with parents, about being interested in fixing cars, about driving trucks and truck stops, and B movies like Ed Wood Jr.'s The Violent Years. Larissa also writes about ending a high school friendship after a night at an Orange County dance club where she realized that after being away at College for four years, she has nothing in common with those that stayed and knows she can never be part of that Orange County world.
Larissa included 4 pages of her younger sister's writing on topics such as Girl Scouts, and then wrote about the kind of sexism that she hopes to be able to help her younger sister deal with.
What you can learn from a Glamour Girl is included in the Sarah Wood Zine Collection at Duke University Library and in the Sophia Smith Collection at Smith College.
External Link