Wellington Zinefest
From ZineWiki
Jump to navigation
Jump to search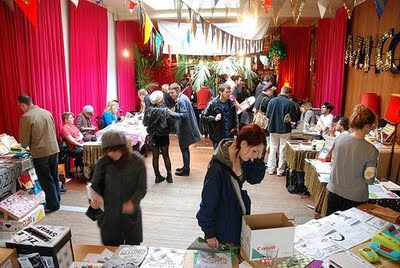 Wellington Zinefest 2010 once again took place at Mighty Mighty, this year on November 20 with more stall holders than ever before. Mighty Mighty's colorful surroundings (gold table cloths, red velvet drapes and carnival flags) suiting the idiosyncrasy of the zines on display. Wellington Public Library and their zine collection were again one of the prime sponsors but this year helped out by a grant from Wellington City Council's Creative Communities scheme. Intimate talks and workshops were held at the rear of the venue. A workshop table hummed with activity resulting in a gorgeous collection of montages being compiled in a zine-from-the-day. And finally, an ugly beautiful 'best of the fest' trophy was awarded to Hannah Salmon & Ben Knight for Daily Secretion 2.
An after party was held at another Wellington bar, Watusi, with several bands, all of which contained stall holders in their various line ups
History
Wellington Zinefest birthed in 2007 as the baby of Wellington Public Library (WPL) employee Kylie Buck. The event took place at the Wesley Church Hall and followed the format of similar events in other countries, with stalls, workshops, food, and a WPL reading area. Buck had recently encouraged the WPL to start New Zealand's first ever public library zine collection. In 2008 Buck left the WPL, yet organised a second Wellington Zinefest that year, again at the Wesley Church Hall. In 2009 Buck formed a committee to take on the responsibility of the third Wellington Zinefest, hoping this would make her personal investment in the event a little easier to cope with and secure the longevity of the event. Wellington Zinefest 2009 was Buck's last in an organizational capacity. 2010 saw the continuation of Wellington Zinefest under the direction of an evolving committee.