Vampire Junction
From ZineWiki
Jump to navigation
Jump to search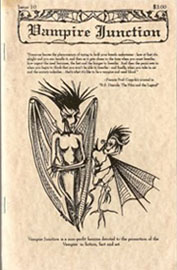 Vampire Junction was a zine edited by Candy Cosner.
The mission of Vampire Junction as stated by editor Candy Cosner, was "devoted to the promotion of the Vampire in fiction, fact and art." The zine included short stories, poetry, reviews, art work, and articles. It was begun in 1991, and published for five years from Gainsville, Florida, U.S.A. At least 10 issues were released.
Contributors of art work include Kim Traub, among others.
Contributors of short stories included Kathy Easton, Jennifer Friedberg, Brian Grandfield, Joanne Kanarkiewicz, D.F. Lewis (Nemonymous), Timothy Kevin Perry, Sterling V. Scarborough, and Margaret Smith.
Contributors of poetry included Nicole L. Draven, John Grey, Valerie Hardin, P.J. Roberts, Joy E. Smith, Jolene Sessler, and Tammerie.
External Links