User:Eugenepunk
From ZineWiki
Jump to navigation
Jump to search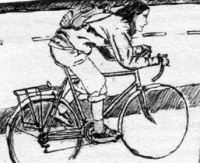 Im interested in documenting these things about zines-
different print techniques - lino and screenprint,
different paper,
how many copies were produced and
where the zine was distributed.
zines of other languages than English or by authors whose mother tongue is not English as these zines have little documentation on internet
Also wish to document more information on the different themed issues that has occurred in zines be that big thousand print zines or smaller cut and paste zines.
Also information on zine events; readings and exhibitions as well as zine libraries.