Tough Love (comic)
From ZineWiki
Jump to navigation
Jump to search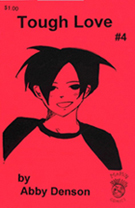 Tough Love is a minicomic by Abby Denson, published in New York, U.S.A.
The first issue was released in 1996. It was photocopied and featured a bright red cover, as would each new issue when it was released. Inspired partly by Japanese manga and partly by punk rock, the comic details the coming out story of Brian, a shy gay suburban high school boy, his best friend Julie, and his kung-fu fighting boyfriend, Chris. Abby printed a few copies off for friends and sent one to XY Magazine (a publication devoted to younger gay guys) for review. XY quickly got in touch with Denson, and Tough Love was then serialized in the magazine for a couple of years, garnering it many fans around the world. At the same time, Abby continued to release it and distribute it in minicomic form.
Some issues include versions of the characters by other artists, such as Will Allison, Sean Bieri, Phil Esquire, John Green, Jeremy Jusay, Yuuko Koyama, Eddie Perkins, Dave Roman, Diana X. Sprinkle, and Andi Watson.
In 2006, Manic D Press released the entire series in graphic novel form.
External links