Toranna Punks
From ZineWiki
Jump to navigation
Jump to search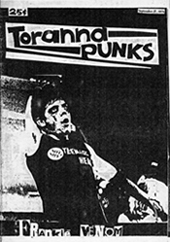 Toranna Punks was a punk zine from Toronto, Ontario, Canada by Johnny Garbage Can.
Released in the late 1970's, Toranna Punks was a photocopied zine that initially cost 25 cents, but the price went up to $1.00 with subsequent issues. The word 'Toranna' in the title was a send-up of the way the name of the city of Toronto is often pronounced by certain local inhabitants. The zine featured local punk and new wave bands, and was frequently at pains to distinguish between the two styles, with a preference for punk.
One issue featured Iggy Pop on the cover, with reviews of his show by the editor and local musicians from the bands The Ugly and The Curse. Also included is news about The Sex Pistols, local band The Toyz, articles on The Androids, whose singer Ruby T's quit, The Skulls, and photos and reviews of The Viletones and Andy Patterson of The Monster Children ( who were later to become The Government). Featured is an interview with all-girl band The Curse.
A later issue, released on September 27th of 1978, features Frankie Venom of the band Teenage Head on the cover. Inside is news about local bands The Curse, the Plastic Bags and The Androids. Included are photos of The Mods, New York band The Dead Boys, punk designer Margarita Passion, and a centrefold comprised of a collage of The Ugly photographed by Ruby. Articles include a review and news about Freddy and the Secrets, made up of ex-members of The Viletones, The G-Rays and The Diodes, and a photo story of Freddy doing his laundry.
Toranna Punks was put together in cut and paste punk style.