Thoughtworm
From ZineWiki
Jump to navigation
Jump to search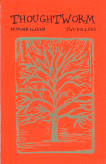 Thoughtworm is a perzine published by Sean Stewart.
The zine began publication in 1996 and typically includes personal essays and/or journal entries, in addition to book and zine reviews. Some examples of subject coverage include veganism, librarianship, cycling, running, and nature. Covers of the zine usually feature screen printed or linoleum block printed artwork.
Issues of Thoughtworm have been featured in exhibitions at SPACES Gallery in Cleveland, OH. Issues 7, 8 and 9 were chosen for the 2003 tour of North America by Mobilivre-Bookmobile, the travelling library of independent publications.
External link