Think Here
From ZineWiki
Jump to navigation
Jump to search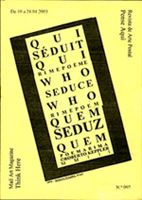 Think Here is a zine from Brazil by Jose Roberto Sechi.
Calling itself a "Mail Art Magazine", Think Here documents the different mail art projects that the editor has created. Each issue's pages are created by the mail artists who have sent something to the editor through the mail as a contribution to his mail art project. The editor then assembles these postings into the form of a zine, which are then mailed back to contributors. Contributors came from around the world, including Canada, France, Italy, the UK, the U.S.A., and of course Brazil.
Jose Roberto Sechi only creates a very limited run of his publication. Each of the twenty-five copies of Think Here are hand numbered.
The zine was released throughout the 1990's and 2000's, with more than 100 issues published.