There's no such thing as a good faerie
From ZineWiki
Jump to navigation
Jump to search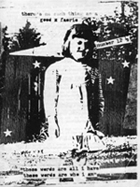 There's no such thing as a good faerie is a zine by Gretchen Lowther from Illinois, U.S.A.
Gretchen's zine was published in the 1990's. Issue 12 consists of dated entries from March 28, 1996, till October 20th of the same year. It could be considered a perzine, except that it also contains interviews and contributions from others. In issue 12, Gretchen asks various zinesters the question, "Why do you do a zine?" and publishes answers from Randall of Scapegoat, April of Girl Least Likely To, Amy of Cutie Pie, Theresa of Billys Mitten, Ritchie of Thrack, Keight of Marmalade, Cheryl of Freak, and Nicole of Silver Rocket. There are also interviews with the bands Lipkandy, and with Skinned Teen, The zine also contains drawings, graphics, and reviews of recordings by The Crabs, Lush, Man or Astroman?. Team Dresch, and Sleater-Kinney.
There's no such thing as a good faerie is included in the Barnard Zine Library and the Sophia Smith Zine Collection at Smith College.
External Links