the pine box
From ZineWiki
Jump to navigation
Jump to search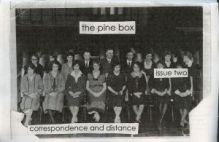 the pine box is a cut-and-paste zine by Karen of St. Paul, MN. It continues her focus on nostalgia and memories.
Issues
the pine box #1 36 p. Subtitled "we only know she came and went", issue #1 reexamines the path her life has taken thus far. She writes about depression and the deaths of loved ones.
the pine box #2 22 p. Subtitled "Correspondence and Distance", issue #2 focuses on found objects and other interesting items. One artice details the fate of undeliverable letters--they are sold at "postal auctions".
External Links