The Yellow Rake
From ZineWiki
Jump to navigation
Jump to search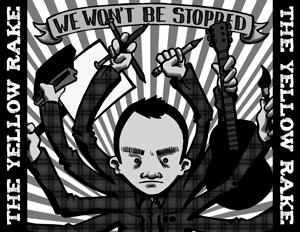 The Yellow Rake is a small-run print zine based in Denver, Colorado, U.S.A.
Although its content varies according to the whims of its contributors, an issue generally includes rants, true life ordeals, fiction, misguided attempts at humor, poetry, personal laments, fake advertisements, and reviews most often pertinent to punk rock, leftist politics, and veganism.
The zine was founded in 2004 by Brian Polk, who needed an outlet for his creative energy when it became clear to him that a career as a serious journalist was unattainable and undesirable. In the years since its founding, Polk has released 29 issues and The Best of The Yellow Rake, a collection of selections from issues 1-16.
Although the printed edition contains exclusive material that remains unpublished online, The Yellow Rake is now in blog form.
External Links