The Village Idiot
From ZineWiki
Jump to navigation
Jump to search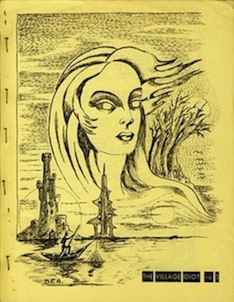 The Village Idiot was a science fiction fanzine published by Paul Shingleton, Jr. and Tom Milton.
The Village Idiot was released in St. Albans (Shingleton) and Huntington (Milton), West Virginia, U.S.A. in the mid-1960s.
The first issue appeared in June 1966, and was 8 pages. It included an editorial, and the articles "The New Penology" and "How to get out of Vietnam".
Issue 2 was released August 1966, with cover art by Margaret Dominick (DEA).
Issue 3 also featured a cover by Margaret Dominick.
Four issues were published, the last in March/April 1967.
Contributors of art work included Margaret Dominick (DEA), among others.
Contributions of poetry included "Reassurance For The Atomic Age" by Phyllis Eisenstein (writing as 'Phyllis Klienstein').
Ron Bennett, in Skyrack #94, 8th August 1967, calls it, "Fair and promising, but Paul needs to work on it rather than letting it simply happen (which of course also applies to Skyrack)."
Previously, Paul Shingleton, Jr. had published Fanivac, beginning in 1959. Tom Milton also published Crud.