The Parallel Times
From ZineWiki
Jump to navigation
Jump to search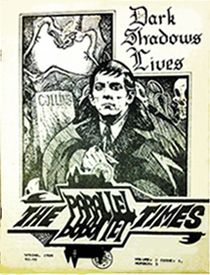 The Parallel Times was a fanzine published by Josette and Patrick Garrison and published by Alternate Shadows.
The Parallel Times was published in New York, U.S.A., and was devoted to the television serial Dark Shadows, specifically the story lines in Parallel Time. It was published during the 1980s for the Dark Shadows fan group Alternate Shadows, formerly the New York branch of the International Dark Shadows Society, who ended their affiliation in 1983. Their newsletter had previously been called "Apple Shadows", but the now independent group renamed it The Parallel Times. The fanzine was published for four years, from 1984 till 1988.
Contributions included a serialized comic strip by Robert Nieves.
Contributions of fiction were by Patrick Garrison, and James C. Tyron, among others.
Contributions of art work were by Laura Albrecht, Anne Marie Erental, Jan Dann, Kay Fry, and Robert Nieves, among others.
Poetry came from Patrick Cline, Lorene Milione, and C. Niacastro, among others.
Other contributions came from J. Avitabile, C. Childress, P. Cline, Josette Garrison, Patrick Garrison, Tom Hotz, Billy McKinley, C. Nicastro, Robert Nieves, Adriana Pena, and Kathy Resch (The World of Dark Shadows).
Also featured were interviews with cast members Marie Wallace, Donna Wandrey, and "noted vampirologist, Dr. Steven Kaplan."
With the help of Jonathan Frid, the group organized a Dark Shadows convention in New York in 1986 called "Manhattan Shadows".