The Lindsay Report
From ZineWiki
Jump to navigation
Jump to search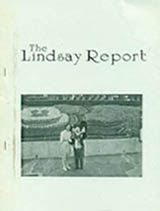 The Lindsay Report was a one time only fanzine by Ethel Lindsay.
The Lindsay Report was published upon the return to the UK of Ethel Lindsay from her trip to the U.S.A. She was the recipient of "TAFF", the TransAtlantic Fan Fund for 1962, which made it possible for British science fiction fans to visit fans in the U.S. and vice versa.
The Lindsay Report is an account of her trip. It was illustrated by Arthur Thomson (The ATom Anthology).
Ethel Lindsay also published her fanzine Scottishe.
External Links