The Grotesque
From ZineWiki
Jump to navigation
Jump to search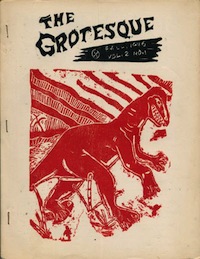 The Grotesque was a science fiction and fantasy fanzine.
The Grotesque was published in the 1940s. Volume 2, No. 1 was published in Fall 1946.
Contributors of writing included "Science Non-Fiction in Fanzines" by Murray Leinster, which appeared in the January 1948 issue.
Other contributions from other issues include fan fiction by Harlan Ellison (Science Fantasy Bulletin), and an article by Bob Tucker (Le Zombie).
Letters came from Robert Bloch, among others.