The East Village Inky
From ZineWiki
Jump to navigation
Jump to search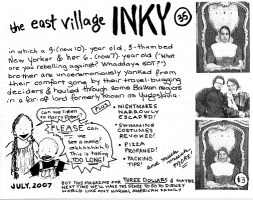 The East Village Inky is entirely hand written and illustrated by Ayun Halliday, and published in New York, U.S.A.
The title comes from Halliday's nickname for her daughter India. The zine deals with family life in a consistently light, humorous tone. Halliday's son, Milo, and husband, playwright Greg Kotis (author of Urinetown) also make frequent appearances.
Other topics have included the summer camp where Halliday works, recipes, film & book reviews, foreign travel, art freak events in NYC, and Ex Circulation Manager Jambo (Halliday's cat, whose death occasioned Special Tribute Issue 29)
Halliday was the editor of The Zinester's Guide to NYC (Microcosm, 2010)
In addition, Ayun Halliday is the author of: The Big Rumpus No Touch Monkey! And Other Travel Lessons Learned Too Late Job Hopper Dirty Sugar Cookies Always Lots Of Heinies At The Zoo Peanut (forthcoming from Schwartz & Wade)
The East Village Inky was one of the zines featured on the 2003 and 2005 tours of North America by Mobilivre-Bookmobile, a traveling library in a trailer of independent publications. As well, the zine was featured in volume six and volume nine of Zine Yearbook, and in the books Below Critical Radar, Fanzines and DIY: The Rise Of Lo-Fi Culture, which features an interview with Ayun Halliday.
The East Village Inky is included in the West Coast Zine Collection at San Diego State University, the New York Public Library's zine collection, Barnard College's Zine Library, ABC No Rio's Zine Library and the Sallie Bingham Center's Collection at Duke University.
External links