The Companions
From ZineWiki
Jump to navigation
Jump to search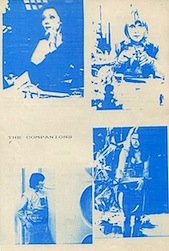 The Companions was a media science fiction fanzine published by Karen Herkes.
The Companions was published in Canberra, Australian Capital Territories. It was based on the television program Dr. Who, and was subtitled: "An Invitation Fanzine About Sarah Jane and the Brigadier." It occasionally crossed over to other fandoms, including Sherlock Holmes, and Blake's 7. Each issue featured fan fiction focussing on the various companions of Doctor Who - after they had left the Doctor.
The first issue appeared in June 1986. Seven issues were released, the last issue in January 1992.
Issue 6, published January 1990, featured the story "The Funny Lady at 57", written and illustrated by Yvonne S. Hintz, which was later reprinted in Roving Reporter.
The Companions is included in the Susan Smith-Clarke Zine Collection at The Nation Library of Australia.
External Links