The Cologne Art Book Fair
From ZineWiki
Jump to navigation
Jump to search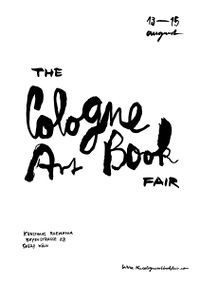 The Cologne Art Book Fair will open its doors for the first time in 2015. The annual event aims to become a must for anyone who is interested in the book as a piece of art. This year's fair will bring together around 40 international publishers, dedicated to the field of artists' books in any form. Curated by (Tim) (TBOOKS), the bookfair will focus on publishers and self-publishing artists based in the Rhineland. Alongside the fair, a series of talks, book launches and readings will broaden the range of interest. The book fair will take place in the Kunsthaus Rhenania and is hosted by the triumvirate André Sauer, Verena Maas and (Tim). Located on the beautiful river Rhine, the Kunsthaus has been a home for artists since 1987. The poster and graphic output for The Cologne Art Book Fair was created by Hamed Eshrat.
Participating artists, publisher or zinemaker (amongst others)
ARCTIC, HIMAA, parasitenpresse, Patrick Rieve, TBOOKS COLOGNE, TFGC Publishing, Torben Röse...
External Link