The Castle of Dark Shadows
From ZineWiki
Jump to navigation
Jump to search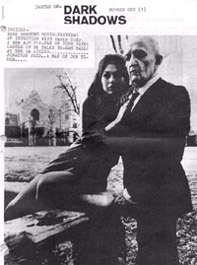 The Castle of Dark Shadows was a newsletter devoted to the original television series Dark Shadows.
The Castle of Dark Shadows was edited by Ronald Lowry, and Assistant Editor Robert Klien, and was the newsletter of the Official International Dark Shadows Fan Club. It was first published in 1970, in the U.S.A.
The first issue featured a cover photo of Kathryn Leigh Scott as "Maggie Evans" and Jonathan Frid as "Barnabas Collins"; preview of the first Dark Shadows movie, The House of Dark Shadows; an interview with Kathy Cody, who played "Hallie Stokes", by Ronald Lowy and Robert Klien, in her dressing room on the set of Dark Shadows, plus photo; a talk with Dark Shadows writer Sam Hall at the Dark Shadows studio; and an article on Jonathan Frid, who played Barnabas Collins.
External Links