The Book Bindery
From ZineWiki
Jump to navigation
Jump to search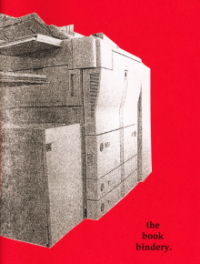 The Book Bindery was a one-shot zine written by Sarah Royal out of Chicago, IL and distributed by Microcosm.

The zine tells they story of Sarah's job working at a book bindery. It combines insight into the workings of a bindery, original photos and Sarah's humor and displeasure with her co-workers, management, and what takes place at the workplace. It's one of those zines that truly gives you a peek into another world.

Selections from The Book Bindery are included in volume nine of Zine Yearbook, released in 2008.