Terror
From ZineWiki
Jump to navigation
Jump to search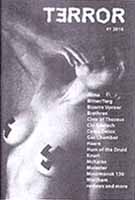 Terror is a Noise and Industrial music fanzine from Lithuania.
The zine is written in English and includes interviews, articles and reviews with bands such as Arma, Bitter/Terg, Bizarre Uproar, Brethren, Clew of Theseus, Clo Goelach, Coma Detox, Gas Chamber, Haare, Hum of the Druid, Knurl, McKaras, Molester, Mourmansk 150, and Wertham.
Terror is A5 size, 72 pages, and printed in black & white.
External Link