Tales of Dayglow
From ZineWiki
Jump to navigation
Jump to search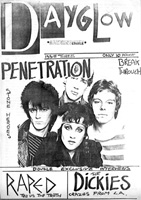 Tales of Dayglow is a punk zine by Steve, from the UK.
Clive and Lawrence assisted with the zine. Emerging in the early days of punk in the 1970s, it was filled with photographs, interviews, news about shows, recordings, gossip, and the punk scene in the UK.
Included in the pages of Tales of Dayglow were bands such as The Ants, Buzzcocks, Captain Sensible, The Cuddly Toys, The Dickies, The Flys, Lora Logic and Essential Logic, The Lurkers, The Pretenders, Raped, and UK Subs, among many others.
Featured on the cover were Penetration (#3), 999 (#4), The Psychedelic Furs (#6), The Damned (#7), Slaughter and the Dogs (#8, December 1979).