Stankzine
From ZineWiki
Jump to navigation
Jump to search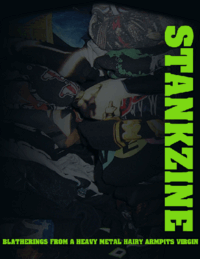 Stankzine: Blatherings From a Heavy Metal Hairy Armpits Virgin is a web zine, available in PDF format.
The first issue was published in February 2009 and includes the following articles: "How my Vaginal Cyst Resolved my Penis Envy"; "The sociopath's behavior is not your fault"; "TMI about my sex life"; "Leggy Drums"; "Wrong Numbers & Stolen Photos"; "Rock n roll photography"; "Nails Through Your Penis, Nails In Your Face".
Stankzine is published on a monthly basis.
External Links